"I'm not satisfied with my victory either."
This article is a stub. You can help Freezing Wiki by expanding it. After expansion, please remove this tag.

"I'm still waiting for my apology."
This article under maintenance and has not been finished yet.
"Pandora Queen" is also the title of Episode 8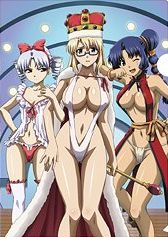 Pandora Queen is a beauty pageant title at West Genetics. It is competed for by the Pandora students of 1st, 2nd and 3rd year at the Academy.
Ad blocker interference detected!
Wikia is a free-to-use site that makes money from advertising. We have a modified experience for viewers using ad blockers

Wikia is not accessible if you've made further modifications. Remove the custom ad blocker rule(s) and the page will load as expected.