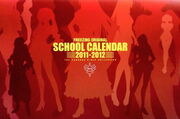 Freezing Original SCHOOL CALENDAR 2011–2012 The Pandora Girls Collection is the calendar included in Freezing: Giant Issue package. The calendar was published by Kill Time Communication (KTC) using their Valkyrie Comic (VC) imprint.
The 12-month calendar is composed of 13 images, the cover image, and 12 images for the 12 months the calendar covers. The images are drawn from the artwork pages of the Freezing manga.
The calendar covers April 2011 through to March 2012.
Ad blocker interference detected!
Wikia is a free-to-use site that makes money from advertising. We have a modified experience for viewers using ad blockers

Wikia is not accessible if you've made further modifications. Remove the custom ad blocker rule(s) and the page will load as expected.